Mobile Shredding in Orlando
On site, shredding is the process of driving a mobile shredding truck to your office or residence. You watch the shredding done right in front of you. The trucks are completely self-contained and can operate without any outside electricity. They will shred in minutes what it would take you days to shred with a standard office shredder.
The shredding trucks are configured so that you can watch your documents being shredded.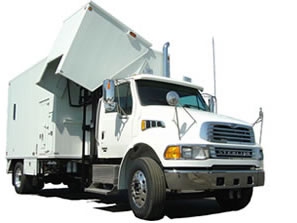 Shredding trucks destroy 6,000 pounds an hour so most jobs only take a couple of minutes. In less than 15 minutes, they can perform the typical business shredding purge. They will handle jobs from a file cabinet to thousands of boxes. For regularly scheduled shredding, locked consoles are placed in your Orlando office for free. You simply drop in any files into the box. The driver comes by on a regular schedule to shred your documents – protecting your sensitive business data from getting into the possession of competitors or identity thieves.
How On-Site Shredding Works in Orlando
Collect everything you want shredded. Don't worry about removing folders or paperclips. The shredder goes right through them.
The papers are destroyed into a secure compartment of the truck. You can observe the shredding.
Certificate of Destruction is supplied for everything shredded.
The shredded paper is baled, pulped down, and recycled into new paper.
Get Free Quotes on Mobile Shredding Services in Orlando, FL Today
To learn more about the on-site shredding services offered at Orlando Document Shredding, give us a call at (407) 792-6268, or fill out the form to the left for a free quote today!