Orlando Document Shredding
The mission of Orlando Document Shredding is to provide businesses and homes with economical document shredding options. We understand that shredding papers demands the highest level of security to protect the information the documents contain. However, you need excellent customer service and something that fits in your budget as well.
About Orlando Document Shredding
Orlando Document Shredding provides several shredding service options developed to go beyond every client's requirements and always at affordable prices.
We are prepared to exceed your document destruction needs at any level. Many offices customers start as one-time purges and then grow into monthly shredding clients to handle their secondary records. We strive to find you the most competitive rates in Orlando. For more specifics on Orlando Document Shredding, call us at (407) 792-6268, or request a FREE quote today.
Is it Worth Shredding Your Documents Internally?
What is the most effective way to ensure your documents are shredded properly? Document shredding usually starts with an employee, a stack of documents, and a $40 shredder from the local Orlando electronics store- but then it quickly evolves into something that's a little more than that.
Sometimes, it's investing in a higher-quality shredder when the first one your bought starts overheating and jamming frequently. How many shredders do you have to replace before you wonder if there's a better way?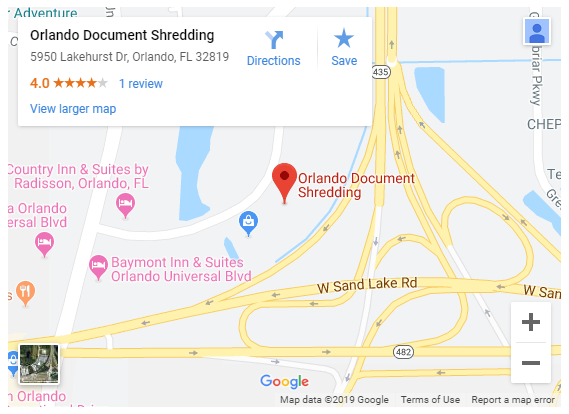 Get Free Quotes on Shredding in Orlando
Orlando Shredding Services
Service Options Available in Orlando
Ongoing Service – Weekly, monthly and quarterly scheduled shredding services. Secure, locked consoles are placed in your office at no cost, and a driver stops by regularly to shred your materials.
Purge Service – For companies that require annual, one-time, or occasional shredding. Costs are calculated based on quantity.